---
Conchidium filiforme
Orchidaceae
---
Conchidium filiform
Orchidaceae
Sawanwadi, Sindhudurga, Maharashtra
July/August 2013

Along with … !!!!!!!!!
here comes another delicate beauty
Conchidium filiforme
from Sindhudurg MH
Excellent field work nice collection
---
Kindly examine and identify this Conchidium sp (Orchidaceae)…… Could this be Conchidium filiforme or Conchidium microchilos….??? 
Habit: Herb 
Habitat: Wild, Evergreen forest 
Sighting: Kottigehara, Chikmagalur, Karnataka, about 1200 msl 
Date: 13-08-2016
---
Of course Conchidium but which one?
I think microchilos has reticulated silver linings on the bulb where as filiforme has not such reticulations. I always get confused.
Please show a good image of the bulb.
That ways this could be 
---
Sorry, pressed wrong button. My poor English.
I meant I always get confused with which one has silver reticulations and which one doesn't have.
Please share some closeups of healthy bulbs if possible.
---
Please look into this image showing the bulbs….. I think the reticulate silver linings are conspicuous. You are the better judge. Attachments (1)
---
This is Conchidium filiformis
---
I would say this is Conchidium filiforme. Thanks a lot for sharing.
---
---
| | | |
| --- | --- | --- |
| at Amboli on 2nd Aug., 2009; Amboli in the 1st week of Aug 2010; | | |
Eria dalzelli ? – efloraofindia | Google Groups
An Orchid to share 030809Et – indiantreepix | Google Groups
---
.
---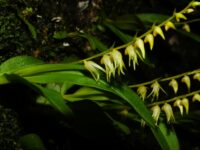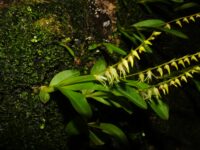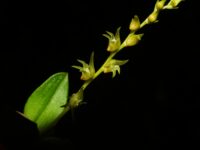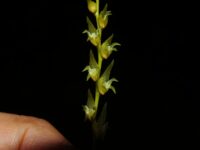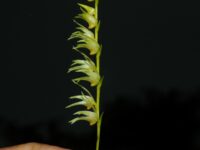 Porpax filiformis-Maharashtra, India:: NS August 2022 (01): 5 images.
This beautiful epiphyte was recorded from Sawantwadi area, Maharashtra during my recent trip…
Entire credit goes to Smita Raskar Ji..
I think the pics are yet to be represented on eFI
---
Now I am in conflict… Conchidium filiforme??
---
Very beautiful.
---
Thanks for validation …, yes it was great fun..
---
References: