Himalaya to China (SW. Sichuan, NW. Yunnan)
as per
WCSP
;
---
Plant 24-35cm tall; tuber small, ellipsoid, 1.5 x 1cm. Stem erect, glabrous; leaf borne about the middle, bracteate above, 14-17cm long; basal sheaths 2, tubular, overlapping, 3.5-5cm long; stem bract 1, lanceolate, acuminate-caudate. 1.5-2.3 x 0.2-0.3cm. Leaf 1, linear to linear-lanceolate, acute, narrowed and sheathing at base, 9-15 x 0.4-1.5cm; sheaths clasping, 2-3cm long. Inflorescence la x ly few-to many-flowered; rachis glabrous, 2.5-10cm long; floral bracts linear-lanceolate, acuminate to subcaudate, 1-veined, 0.5-1 x 0.12-0.2cm. flowers 3-4mm across, uniformly green; pedicel and ovary slender, decurved, 4-5mm long. Dorsal sepals oblong to ovate-lanceolate,obtuse, 1-veined, forming hood with petals , 3-3.2 x 1-1.8mm; lateral sepals similar, ±spreading. Petals oblong, obtuse, weakly falcate, 2-3 x 0.5-0.8mm; Lip 3-lobed, spurred, fleshy; base truncate, shortly clawed, 2-3 x 1.5-2.5mm, 0.8-1mm long; pollinia clavate; caudicles short; viscidia small, cordate; staminodes small; stigmas 2, tranversely oblong.
(Attributions- N. R. Pearce & P. J. Cribb. Orichds of Bhutan. Published by RGoB and RBGE. 2002 from Bhutan biodiversity Portal)
.
Herminium species for ID ABJUL2017/24 : 13 posts by 3 authors. Attachments (4)
This one is a little confusing for me. I think this is Herminium monophyllum but I am not sure. Please advise.
Herminium monophyllum?
Between Mcleodganj and Triund, Dharamshala, HP
---
I need to see the spur. This is not Herminium monophyllum. May be Herminium monorchis, It looks more like Peristylus fallax but need to see the spur to confirm.
---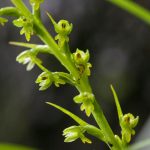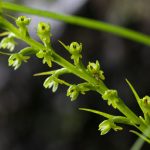 Thank you … I am including here a couple of photos showing the spurs. Hopefully these are sufficient to show the characteristics you wanted to see.
Many thanks once again.
---
I dont have any new references but it is not recorded from Himachal. Its a new record for the state. You must publish it.
---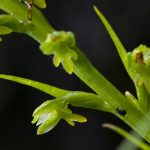 Thank you very much … What are we looking at in the photograph? Is it the base of the column? I am including a larger resolution part of the photo. I will revisit the plant soon and photograph it properly again.
I am not sure how and where I should publish that this species occurs here. Please advise.
---
The arrow points at the spur which is at the base of labellum and part of the labellum. I think Journal of Threatened Taxa will accept it.
---
Thank you once again for explaining this and for the advice. I will read the guidelines and prepare a document soon for review. 
---
I think you should jointly publish it as … is the right person to properly guide you in the matter.
---
No no, i will help with the same effort even without authorship 🙂 so don't worry about giving authorship to me!! Thank you … for offering !!
---
I always feel that efforts of anyone helping in the matter should be recognized.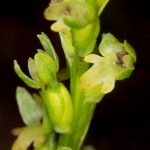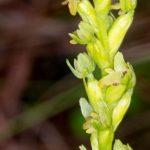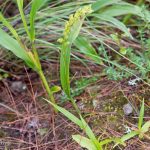 SK 3283 02 January 2022
: 3 very high res. images.
Location: Jumla, West Nepal
Habit : Wild

Peristylus fallax Lindl. ??
---
To me also appears close to images at Peristylus fallax
---