Lepidagathis barberi 
Gamble, Fl. Madras 1067 1924. ;
.
India (Tamil Nadu)
as per
POWO
;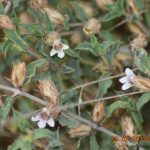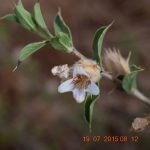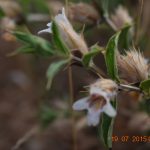 Identification of Lepidagathis sp.
: 8 posts by 4 authors. 3 high res. images.
Pl. help me to identify the Attached Lepidagathis sp.
Erect herb- Flowers solitary in axle. Leaves entire with spiny tip. Bracts spiny. Flower cream colour.
Observed
at Palladam, Tiruppur Dist, Tamilnadu on 19-07-15
Specimen do not match with L. fasciculata

due to absence of crenate leaves and short spike inflorescence.
It may not be L pungens  – due to absence of spiny leaf margin.

May not be
L.incurva
due to absence of terminal short spike of inflorescence.
---
This is an interesting plant; I never came across.
---
After detailed net perusal, the possible nearest match is Lepidagathis fasciculata (Retz.) Nees. 
---
It is not L. fasciculata as the leaves in the posted pictures are spine-tipped.
Lepidagathis pungens Nees ??
---
---
I thought you both are the same …,
L. barberi (= pungens).
---